I can't stress enough how I believe something came out of the ground near Pulga. I'm not the only one that believes that. Mike Morales from Above Ground World News did a video on the anomaly of something shooting in the air. Please watch this to see what he confirms in my mind.
Now I came across an interesting video by a guy that actually had gotten footage near Pulga looking at Feather River Canyon. I watched it and you can see demonic faces and it looks as if the fire was dancing as Betsy Cowley mentioned.
Now I captured a few screenshots that look as if there are faces in the fire. You can also see firenados and people will tell you that these happen because of air and whatever. I get it, They say they are a natural phenomena but I see something spiritual happening here. If you can't discern after all of the proof I've broughy up, I don't know what to tell you.
The canyon where the fire started literally looks like a pit of hell. I also came across more images where it shows you the origin of the fire and its movement.
Location, Location, Location
This is an update from Part 1 and Part 2. I was guessing that the fire event started near the Cresta Hydro Power station. That was my initial thought. Fortunately the story has changed a few times on the exact location, which tells me something is being hidden. Now the initial fire could have started inbetween Poe Dam and Cresta PH, but I am absolutely postive something came out of the ground in that area. Until I have ground breaking proof, this is my theory.
Now I want to mention the meaning of the word Cresta. "Italian: from cresta 'crest' (from Latin crista), perhaps applied as a topographic name for someone who lived by the crest of a mountain or as a nickname with reference to the comb of a rooster. (Source: Dictionary of American Family Names ©2013, Oxford University Press) The rooster is another reference to the phoenix and if you have followed my research than you know what the rooster represents.
We are told that the fire started at around 6:30ish at Poe Dam near Pulga.
The very first 911 call came from Rock Creek station which is 8 miles away from Pulga claiming there is a fire above Poe Dam at the powerlines near the train tracks.
This call came in at 6:25 am. Looking at a ton of pictures and according to the pictures, the fire looks like it started at Dogwood Creek, in between Poe Dam and the hydro station around the bend.
East side of I70
Pulga
I'm wondering why Rock Creek PG&E called it in first when there were reports that the Captain for the forestry service saw it first but he was at Jarbo Gap? Which is South of Pulga. It seems the story is slowly changing…again.
Here is an excerpt from Juan Brownes latest video.
This video above is supposed to be a fly over of the spot the fire started. It doesn't show much though. He shows Pulga in 2012 and it's a creepy little town. I did find it funny he called Betsy Cowley "Crowley" giving the Alesteir magick nod. Maybe it's just his bad on his part but for someone to know so much about this particular fire, he should've gotten her name right. This video did confirm for me that I70 had been closed until December 4th, the road to Pulga was still closed and the fire was to the East of I70. Here is a picture of where the fire did jump over I70.
You can watch the full video here: https://youtu.be/wuTt-wWvREk
Here are some screenshots of Pulga.
I talked to a guy near Paradise who does drone videos and he has agreed to get me some footage of both sides of the canyon from Pulga to Rock Creek. I'm curious to see what is going on there. Juan didn't show us much. As soon as I get it I will be posting on it.
A Planned Conspiracy
Like I said, the stories on where and how this happened are changing ever so slightly. They had this planned and there is proof. This helps the credibility of my theory that they knew something was coming out of the groundon a certain day. Especially so on 1 Kislev or November 8th.
Here are a few testimonies.
GWEN WORSHIP
Twitter account Maga **Proud Texan** has done research in connecting 3 GWEN Towers for fanning the flames at Paradise. That is the claim.
SOTN Editor's Note: Proof has been presented via the hard scientific evidence provided by Nexrad Radar, Autocad Civil 3D, Modis 6 and VIIRS (Visible Infrared Imaging Radiometer Suite) satellite hot-spot data that microwaves produced from 3 GWEN stations were utilized to trigger California's devastating Camp Fire. What follows are 2 screenshots showing the cluster of microwaves that were transmitted throughout the exact area where the Camp Fire exploded.
This also may account for the "shock waves" that were seen in the atmosphere that pushed West towards the ocean. Let's take a look at it and see if this is possible.
This research doesn't take anything away from my theory that something still came out of that ground near Pulga. The spiritual deception is still there. This guy shows how the fire accelerated so fast and kept burning. He believes this is how they started. I question how a microwave can induce a fire when GWEN deals with frequencies like the Schuman Resonance. I think aluminum is a better candidate for inducing fires.
Here are his screenshots he put together with timestamps that correlate with GWEN and what was seen on the satellite imagery.
You can find his research here: Check out MAGA**PROUD TEXAN** (@drew91172026): https://twitter.com/drew91172026?s=09
And read his article here: http://stateofthenation2012.com/?p=110720
Now you add this to aluminum igniting along with the other chemicals that are used you have a weapon. So you would think. Nicolas Jones in September of 2001 wrote this about these towers. According to him aluminum stops these microwaves from GWEN. Think tin foil hat for a second…quite literally.
WHAT ARE GWEN TOWERS?
GWEN (Ground Wave Emergency Network) transmitters, placed 200 miles apart across the USA, allow specific frequencies to be tailored to the geomagnetic-field strength in each area, allowing the magnetic field to be altered. They operate in the VLF range, with transmissions between VLF 150 and 175 KHz. They also emit UHF waves of 225 – 400 MHz. The VLF signals travel by waves that hug the ground rather than radiate into the atmosphere. A GWEN station transmits up to a 300-mile radius, the signal dropping off sharply over distance.
The entire GWEN system consists of, (depending on source of data), from 58 to an intended 300 transmitters, spread across the USA, each with a tower 299-500 ft high. Three hundred (300) ft. of copper wire fans out in a spoke like fashion from the base of the underground system, interacting with the earth like a thin shelled conductor, radiating radio wave energy for very long distances through the ground.
The USA bathes in this magnetic field which rises to 500 ft, even going down to basements, so everyone is subject to mind control. The whole artificial ground wave spreads out over USA like a web. It is easier to mind-control and hypnotize people who are bathed in an artificial electromagnetic wave. Covering the entire floor with aluminum and buying a CET (Cosmic Energy Transformers ) cylinderfrom various places -one of them, Nordic Living Water Systems – can help.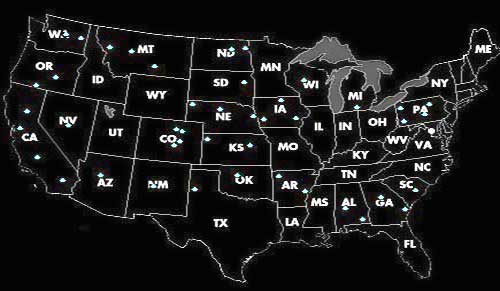 Location of Gwen Towers in the U.S.
GWEN transmitters have many different functions, including controlling the weather, mind, behavior and mood control of the populace. LINK
So the question is, can a artificial electromagnetic wave that is used to control frequencies that can manipulate peoples moods and control them actually fan the flames of a fire and actually start and ignite a fire? If it can then im sure it was used as a fan of types to push this fire to he even hotter than it should've been. Do I think it was the cause or igniter though? No.
The Ring
And they still want to say that this "ring" on the powerline was the culprit that burned 153 thousand acres. That would be according to Juan, 18 miles long and 12 miles wide that burned 18 thousand houses. How do you like those coincidental numbers? A 100 year old powerline from 1918. Man these people are stupid.
Why would they say it's a ring? Remember, everything is coded and symnolic for something else. Maybe they used Gwen to communicate to demonic entities. Maybe that was the point?
"A healer called Mr. A claimed to have received "Ancient Wisdom" from the earth's protective Magnetic-Ring of energy which stores within it all knowledge since time began.
Ruth Montgomery wrote about this healer in Born To Heal. He claimed that if our energy flow is cut off from this magnetic field, (the protective atmospheric magnetic-ring) then the Universal Supply is obstructed and we are no longer in tune with these advantageous frequencies, therefore we begin to get sick. The Power from this travels in split-seconds around the world and is available to anyone who is capable of receiving and handling it. The waves from The Ring were automatically translated into words in the healer's mind and interpreted as wisdom to diagnose and heal others; this ability coming from the storehouse of knowledge that has been present since the beginning of time. By tapping into this storehouse, he produced instant miracles, knitting broken bones and removing arthritis. A photo was produced that displayed forked lightning emitting from his fingers." LINK
So as you can tell, this is some new age demonic deception that involves magick and astral projection. This is completely demonic and it makes me wonder what their connection here (if any) is associated with GWEN Towers and this "ring" on the powerline in Pulga?
Paranoid?
And if it was planned for whatever reason, read below as to why it concerns me. I got this in the mail a few days ago. I find it funny that now PG&E wants to do inspections on Smart Meters in light of what's been going on up North and down South. They either are trying to save face because they are to blame for ALL of these house fires or they are messing with our stuff on purpose. How are you going to inspect our SMART METERS, now of all times, when you can control them via Wi-Fi? That's the point of them being SMART. Let me add that in the 6 years I've lived in this house, they have never inspected the meter once. So if I seem a little paranoid there is good reason to. If anything happens to our little town of Taft with "fires" you know why.
And speaking of Taft, my hometown. Ironically the Paradise Masonic Lodge and Cemetary made it unscathed through the fires. The first picture comes from the lodge in Taft where I live. It's funny, this lodge was rebuilt 3 times because it burned down. And now it seems the Paradise Cemetery is surrounded by a crematorium.